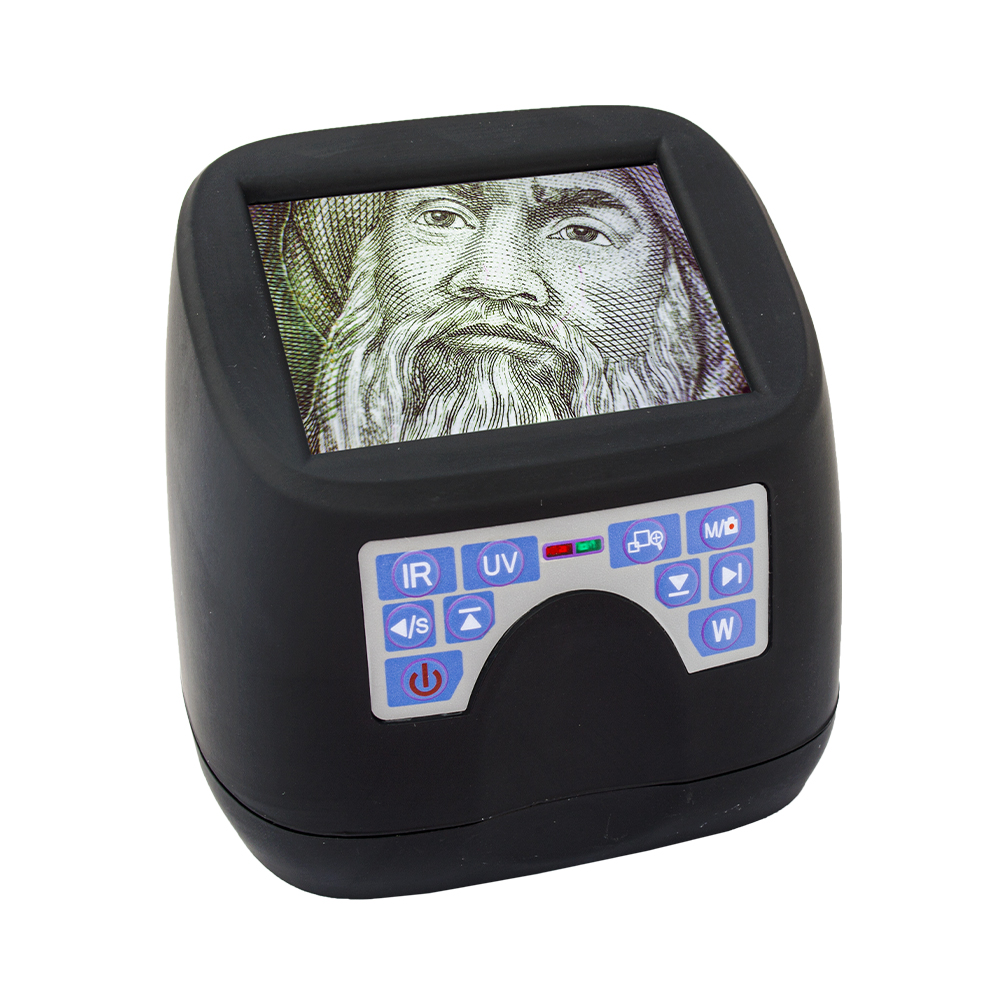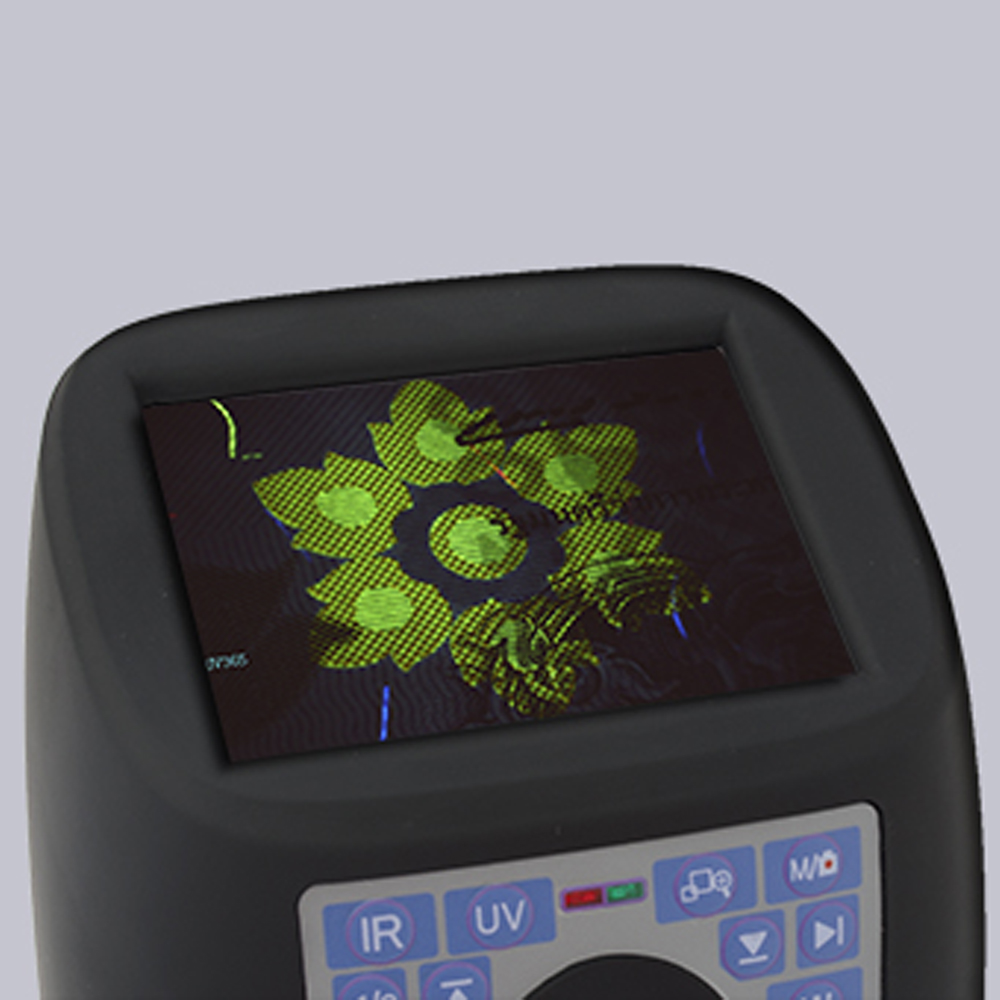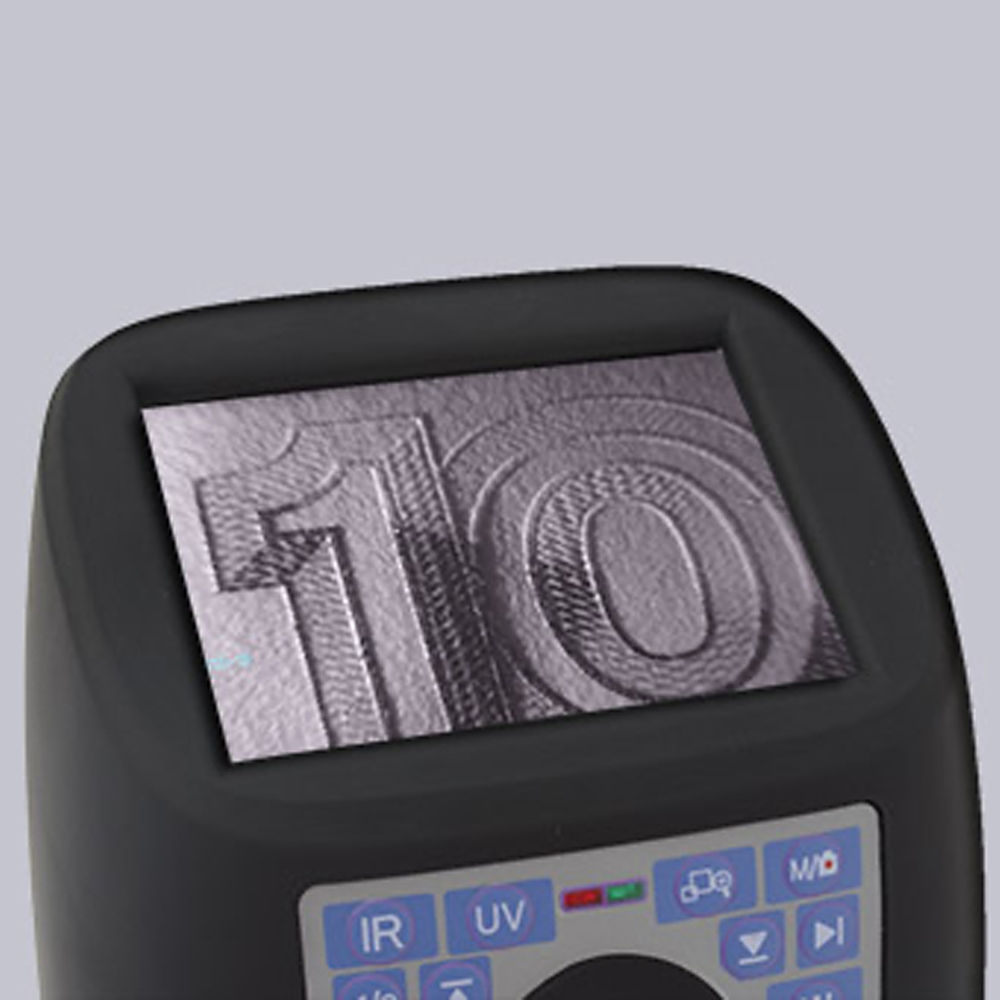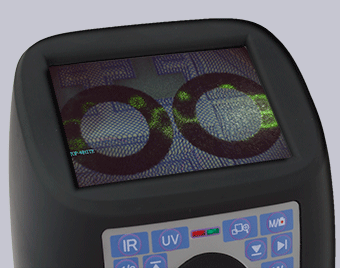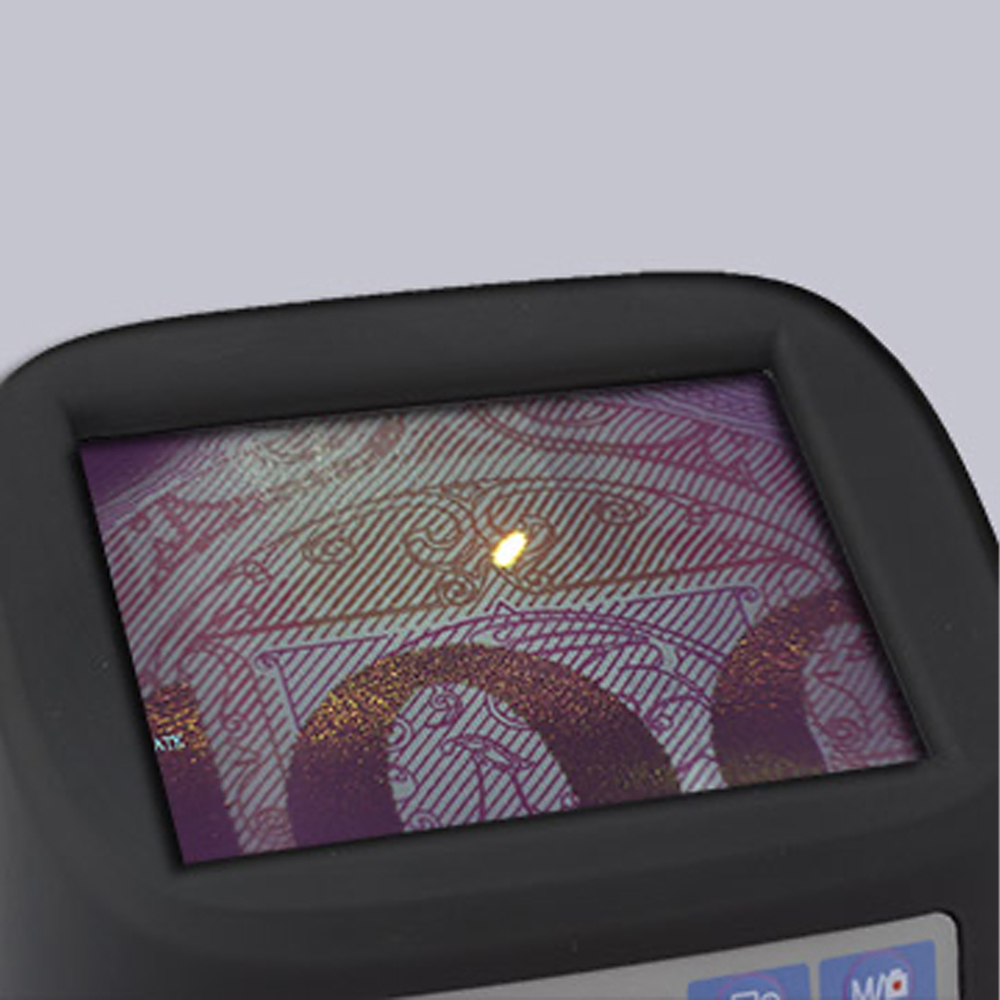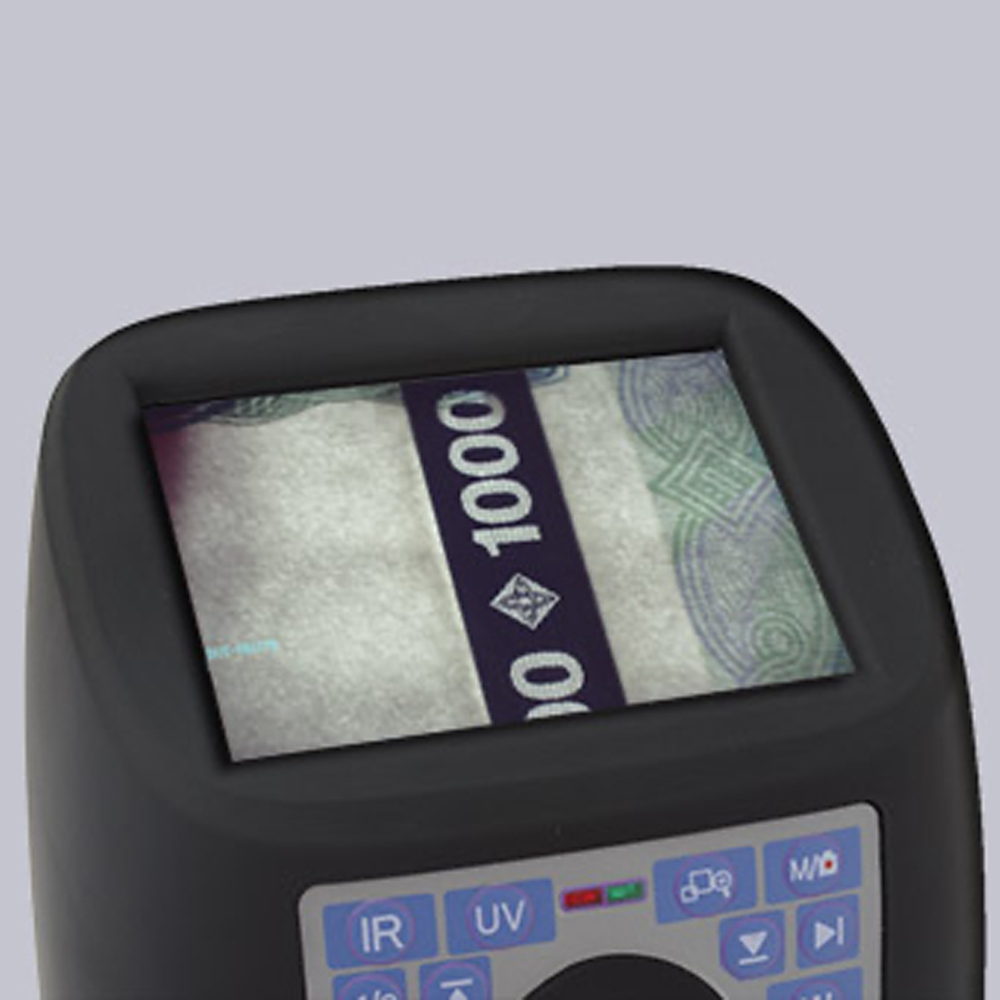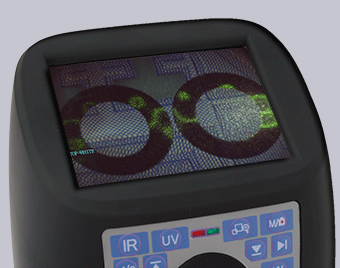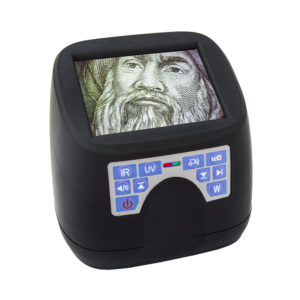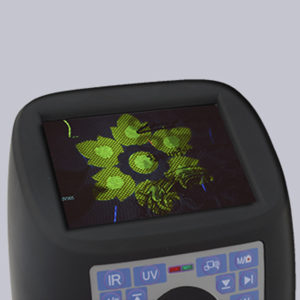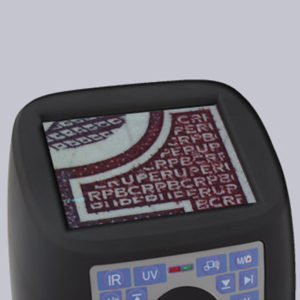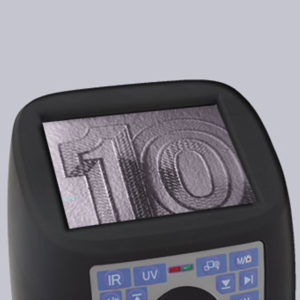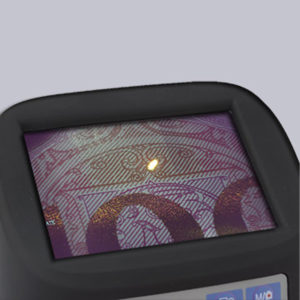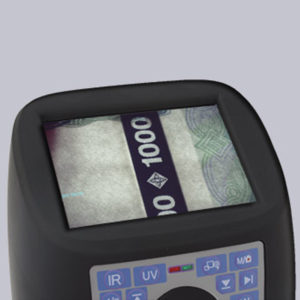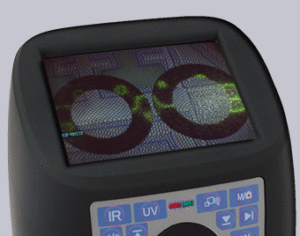 Professional desktop detector
Professional desktop detector with 3″ full colour LCD screen, an improvement on the older C380 model. The device has a high-quality infrared lens with low distortion, visible light bandpass filter, high power infrared light filter, etc.
The S3B detector has an additional enhanced function for capturing images and storing them in an internal memory with a capacity of 4 GB. These images can be viewed directly on the device or on an external monitor via HDMI. All images can be transferred to a PC via USB cable for further processing.
Check banknotes, documents and other documents with the S3B detector:
Inspection in the IR spectrum – detection of patterns formed from IR metameric colours (identical in colour but with different reflectivity's in the IR spectrum)
Inspection in UV A and UV C spectrum – detection of the absence of fluorescence of the banknote paper; fluorescence of individual parts of the banknote based on the special fluorescent inks used
Inspection in transparency – detection of watermarks, security fibres and security stripes, detection of the presence and shape of the screen impression on the paper, micro perforations, check print patterns as well as comparison of their relative position from the face and reverse side of the banknote
White light inspection – detection of printing techniques, print detection, detection of the presence or quality of micro-texts on the banknote, document ID, etc.
White light inspection – lateral – detection of printing techniques especially gravure, detection of protective elements with folding effect, MVC protective elements (Moire Variable Colour), etc.
Anti-Stokes light inspection (980 nm) – detection of Anti-Stokes protection patterns
| Detector type | S3B |
| --- | --- |
| Detailed view | x |
| Direct white light | x |
| White light - translucency | x |
| Side white light | x |
| Oblique white light 2x | x |
| Cross white light | x |
| IR light (850nm) | x |
| IR Light Blink (850/940nm) | x |
| IR side light (850nm) | x |
| UV-A (365nm) | x |
| UV-C (254nm) | x |
| Anti-Stokes (980nm) | x |
| Blue light (470nm) | x |
Technical parameters
Dimensions:
Height: 96 mm
Width: 92 mm
Depth: 78 mm
Weight: 200 g
Power supply: 5V
LCD monitor: 3″
Rechargeable battery
Memory: 4 GB
Visible field in mm: 21×15/10×7
Images: 2592 x 1940 Pixels
HDMI
USB
AV connector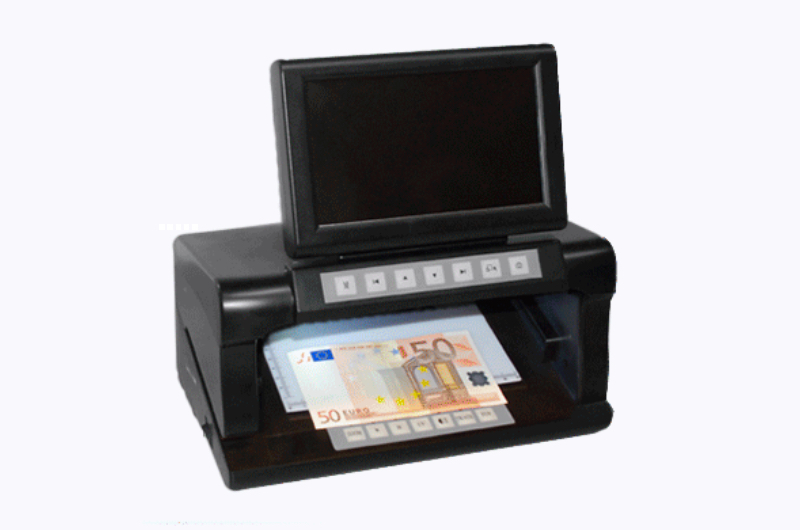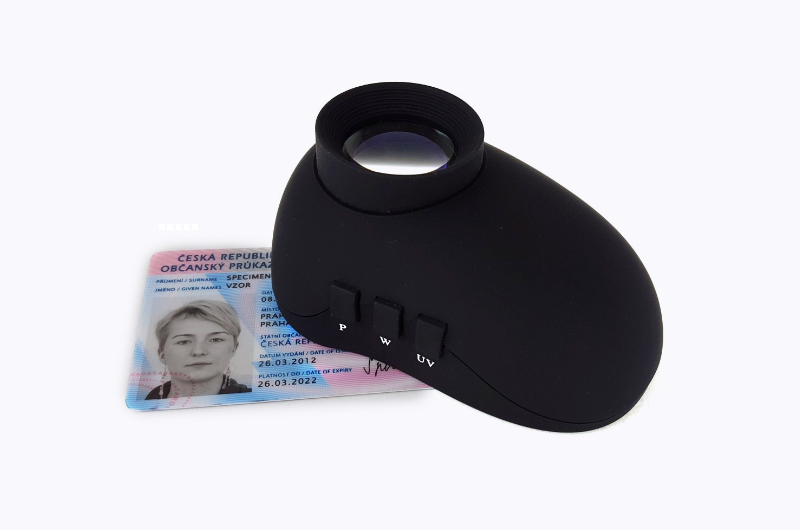 C21x-C23x series detectors